"Empty haul" is a long lasting pain in trucking industry, carriers are suffering from running empty trucks back after dropping shipment at a destination, meaning that they are bearing a cost of running both rounds but making money from only one.
360TRUCK is an online logistic platform that aims to increase carrier's fleet utilization and efficiently match carriers with shippers through our cutting-edge technology.
360TRUCK
Core Features:
PROPRIETARY MATCHING ALGORITHM
Increase chance of matching through our own "Three-layer Matching Algorithm".
The alogirthm does not match at the level of city, but it matches at the coordinates level, and it includes every possible matching in real-life situation.
Maximize the probablity of successful matching thorugh our machine learning and proactive suggestion to users.
For example, the system can learn and provide more accurate timing estimation, warn of foreseeable delay, and push notification to shippers for availalbe trucks on their frequent route.
STANDARD PRICE 
WITH INSTANT QUOTATION
No more time-wasting on back-and-forth negotiation, we offer you the standard price for everyone. You can see price instantly after select the route.
PRE-QUALIFICATION PROCESS
To ensure highest reliability in our network, carriers (and credit-trem shippers) have to pass our qualification process and agree to our terms and conditions.
All the transactions are done online and paperless, therefore carriers are guaranteed to get paid within 14 days after the shipment is completed,
CLOUD-BASED ERP
FOR CARRIERS
Manage your fleet with our fleet management tool (ERP), and maximize your utilization by seamless connect to 360TRUCK marketplace for matching your empty hauls with demands.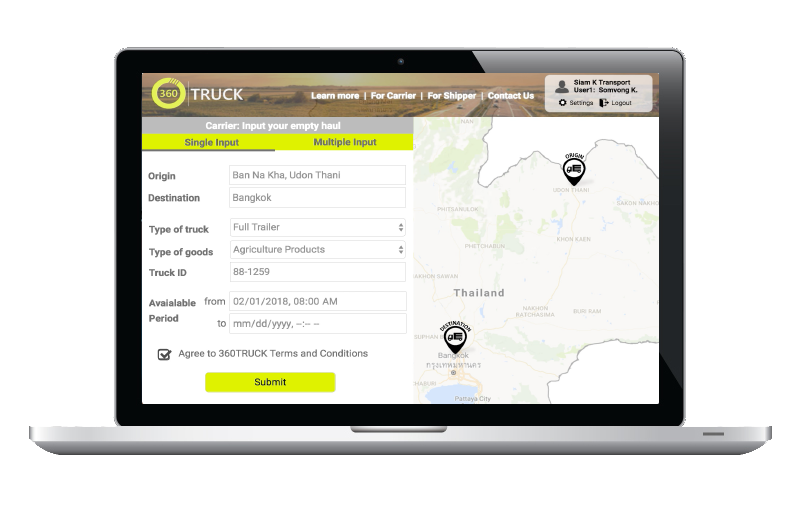 360TRUCK Logistic Platform
360TRUCK platform is now in soft-launch phase. Visit us at WWW.360TRUCK.CO
We are open to your ideas and seek for investment partnership. Our platform consists of two main parts.
360TRUCK Logistic Marketplace with Matching Algorithm and Predictive Analytics
ERP for Carriers's Fleet Management with ability to seamlessly connect to the 360TRUCK marketplace
360TRUCK platform is now ready to service you!
CARRIERS and SHIPPERS, please register at:
To start using our service, please sign up at www.360TRUCK.co
(currently available only in Thai)
-- We combine all your requests, do matching, and get back to you --
Talk with us, Add 360TRUCK LINE@ by click or scan the below QR code.
"Bridging and enhancing logistics industy to the fullest capability" is our vision. We aim to help carriers optimize their fleet and achieve highest operational efficiency through our cutting-edge technology and fleet managment tools.
We seek to become a leading online logistics platform in Southeast Asia,
We tackle the problem at the heart of it. Therefore, market validation is critical to us. We have completed market validation in Q3 2018 and also validate our solution to the market in Q4 2018. We now truly understand the logistic industry, their pains, and the soultion for them.
In May 2018, we launched the service for the first time to test the market through online communication channels—i.e. Facebook and LINE@ (an official LINE account for business). As of December 2018, we have received 142 shipment requests from carriers and matched about 10% of the requested trips to the shipment demand of shippers. This is a solid prove that the pain exist, the solution is possible, and a big opportunity is waiting out there.
Winner of Thailand LogTech Award 2017

First Prize for the Startup Showcase at

at MIT Global Startup Workshop 2018

First Runner-up for the Business Plan Competition at

at MIT Global Startup Workshop 2018
One of 8 finalists at MIT $100K Entrepreneurship Competition 2018 at the Massachusetts Institute of Technology, Cambridge, MA, USA.
Our team cover all critical functionalities and have true understanding in the trucking industry. The CEO, Sea Chuchchon, has been in trucking industry for 8 years and ready to lead 360TRUCK into reailty!
We're open to sharing our vision and ready for fresh cooperations with creative individuals and companies. We are seeking for the investment partnership to accelerate our project.